The first steps you MUST do to apply for an exchange with ETSIT-UPV are:
1 – Be sure `ETSI Telecomunicación – Campus de Vera´ is your School of choice. DO NOT CHOOSE "TELECOM CAM"
2 – Check with your home International Coordinator if you have an exchange agreement with us. If not, your school has to sign one before sending students.
3 – Check our courses, schedules and calendars in the information below.
4 – Pre-enrolling electronically at our Central International Office Website. After visiting all the other links, please select: "Access to the on-line exchange application". Please read carefully the directions given before doing anything else!!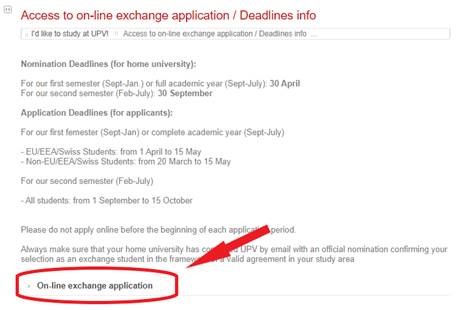 5 – Select the option: Request user ID and password (PIN: Personal Identification Number).

6 – Complete the Home Institution Data as follows and press Next:
7 – On the next tab, select the option: "ETS Teleco – SCHOOL OF TELECOMMUNICATIONS ENGINEERING" and press Next.

8 – Fill in the form with all the required information and press Send Registration.
9 – We will send you a login and a password to access your UPV enrolment profile. In this profile, you can check the progress of your exchange procedure with UPV, and some notices. Please keep and remember your login and password since you will need them to access your intranet.
10 – After your pre-enrolling, your home International Coordinator has to appoint you as Exchange Student to our School. THIS STEP IS ESSENTIAL. No student will be accepted without their home coordinator's approval.
11 – Then you can upload your application form, transcript of records, CVs, disclaimer, and other papers. Electronic documents are highly preferred.
12 – We will proceed to check your learning agreement. If everything is OK, we will accept you. Otherwise, you will not be accepted.

IMPORTANT NOTICE: If you insist on keeping your choice in some course(s) for which we cannot guarantee availability at your arrival in Valencia, we decline all responsibilities.
We assume you have enough funding for the whole of your stay. IT IS YOUR RESPONSIBILITY.

You can check if you are accepted or not by visiting your UPV profile.
We would also be glad to help via our contact form.